A native Rhode Islander, Dr. Picard grew up witnessing health-related issues with his family, always believing there was a better way of living life and achieving optimal health. His personal story of chiropractic began with his mother. When Dr. Picard was a teenager, he saw his mother go through many health-related challenges, one of them being low back pain. Seeing his mom get her health back through chiropractic care was the motivation that got Dr. Picard interested in chiropractic medicine.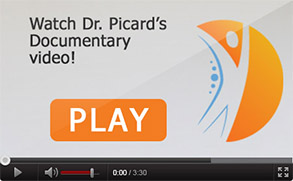 After attaining his undergraduate pre-med requirements, he attended the National University of Health Sciences and graduated as a Doctor of Chiropractic in 1990. After being in practice for a number of years, Dr. Picard went back to school and attended the University of Rhode Island's Nutrition and Food Sciences program. He also attained a national certification as a nutritional consultant from the American Association of Nutritional Consultants. Dr. Picard has also done advanced clinical training at Ulan Nutrition Systems in Clearwater Florida to become a Nutrition Response Testing doctor. Through nutrition and chiropractic, Dr. Picard has helped thousands of patients achieve better health and a more meaningful life.
Dr. Picard's patients are people that see the value of supporting the body naturally with chiropractic and nutrition for health related problems. Supporting the body with chiropractic adjustments will give the body the advantage it needs to heal as nature intended.
Dr. Picard is passionate about his work and is working for you on various levels. He will review your case on a holistic platform to ensure that you will get the best possible chiropractic care. Dr. Picard will inform you of what he thinks your problem is and will gladly work with your primary care doctor if you so desire. He is always working in your corner and wants the best approach to help your body recover from any health challenges you may be having.
Ultimately, everyone needs someone to manage their health but more importantly someone to look at the big picture from a third party perspective. Dr. Picard has the expertise to help you in your quest for wellness.
With that said, we encourage you to schedule an appointment — Dr. Picard will ask you questions about your issue and determine if he can help you or not. This is a good first step to connect with a natural medicine doctor who is truly interested in helping you.
I am a avid tennis player and I see Dr. Picard on a regular basis to keep me healthy and on track with my game. He has definitely helped with any sports injury that I have had in the past. I highly recommend him!
Dr. Picard has helped me with low back and leg pain where I am now pain free and back on track with my life again! I highly recommend Dr. Picard if you have any type of back pain. He definitely gets you feeling well in a short amount of time!
I highly recommend Dr. Picard to anyone who is seeking quality healthcare. He is knowledgable, patient and caring, which is very hard to find in our world of conventional medicine.
There are many doctors in this world that say they are there for their patients, and there are doctors that really are there for their patients. Dr. Richard Picard is that doctor who is there for his patients.
I just needed someone to take that "extra step." Dr. Picard was the one and only person to find a solution and end 13 years of suffering. I am forever grateful to this person who truly listens to and sincerely wants to help his patients. Thank you, Dr. Picard!
Take the first step to better your health – let Dr. Picard help you.